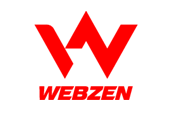 WEBZEN GAMES
WEBZEN Inc.is online game developer and publisher based in South Korea. It was established on April 2000. The company, together with its subsidiaries, also engages in software licensing and related services all over the world. WEBZEN has various game titles such as 'MU', 'Soul of the Ultimate Nation(SUN)', 'Archlord', 'Battle Territory (BATTERY)', 'Continent of the Ninth(C9)' etc

WEBZEN merged with NHN Games for the purpose of increasing competitiveness and profit. WEBZEN survived, while NHN Games dissolved with the merger on July 7, 2010. Meanwhile, In February 2011, WEBZEN acquired Ymir Entertainment which makes huge profit especially in Europe market.

On November 10th, 2011 WEBZEN presented a video of MU2 at the G-Star 2011 Expo in Busan. The company's line-up of games includes other new titles such as Archlord 2, MU: eX 700 - MU Online's first expansion, Continent of the 9th (C9): PvP Global Championship and the first of a kind MU World Championship 2011.

In the present (January, 2012), WEBZEN's game is being serviced all over the world via its global game portal WEBZEN.com for 'MU', 'SUN' and 'Archlord'.

Until the end of 2012, WEBZEN is planning to launch global service for MMORPG 'Archlord X: The Chronicles.', 'Continent of the Ninth(C9)' and military FPS game 'Arctic Combat'