Hecate AC_Gold
Type
Sniper Rifle
Features
Gold Camo
Statistics
Ammunition
5/20
Damage
Unknown
Precision
Unknown
Fire Rate
Unknown
Stability
Unknown
Mobility
Unknown
Firemode
Bolt-Action
Pre-Attached Scope
5x Sniper Scope
It first appeared in the Limited Gold Weapon Coupon during the South America Server Open Event.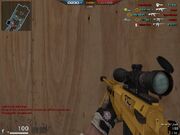 Ad blocker interference detected!
Wikia is a free-to-use site that makes money from advertising. We have a modified experience for viewers using ad blockers

Wikia is not accessible if you've made further modifications. Remove the custom ad blocker rule(s) and the page will load as expected.