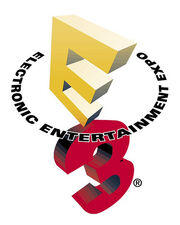 The Electronic Entertainment Expo, commonly known as E3, is an annual trade fair for the computer and video games industry presented by the Entertainment Software Association (ESA). It is used by many video game developers to show off their upcoming games and game-related hardware.
E3 is widely considered to be the ultimate expo in the video game industry and major video game critics routinely document the event and sometimes even provide a series of E3 awards. Video game companies generally spend more on their presentations for E3 than any other convention. Major video game critics often have a "best of E3" award session, and only E3 consistently features such awards.
Ad blocker interference detected!
Wikia is a free-to-use site that makes money from advertising. We have a modified experience for viewers using ad blockers

Wikia is not accessible if you've made further modifications. Remove the custom ad blocker rule(s) and the page will load as expected.