Arctic Wind

Lobby-image
Name
Arctic Wind
Size
Large
Groundplan

Groundplan of Arctic Wind.
Arctic Wind is one of the maps featured in Arctic Combat. This map is featured as a snow fallen cargo area that is limited by its small size. This map is an open area, therefore medium to high range combat is recommended, but close range can also be used if one decides to travel through the inside areas. 
Power-ups
Edit
-This map is based off a Russia military base.
-This is the only map along with the Downtown map to feature 2 strategically located HMGs.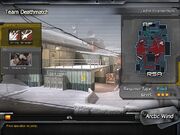 Ad blocker interference detected!
Wikia is a free-to-use site that makes money from advertising. We have a modified experience for viewers using ad blockers

Wikia is not accessible if you've made further modifications. Remove the custom ad blocker rule(s) and the page will load as expected.